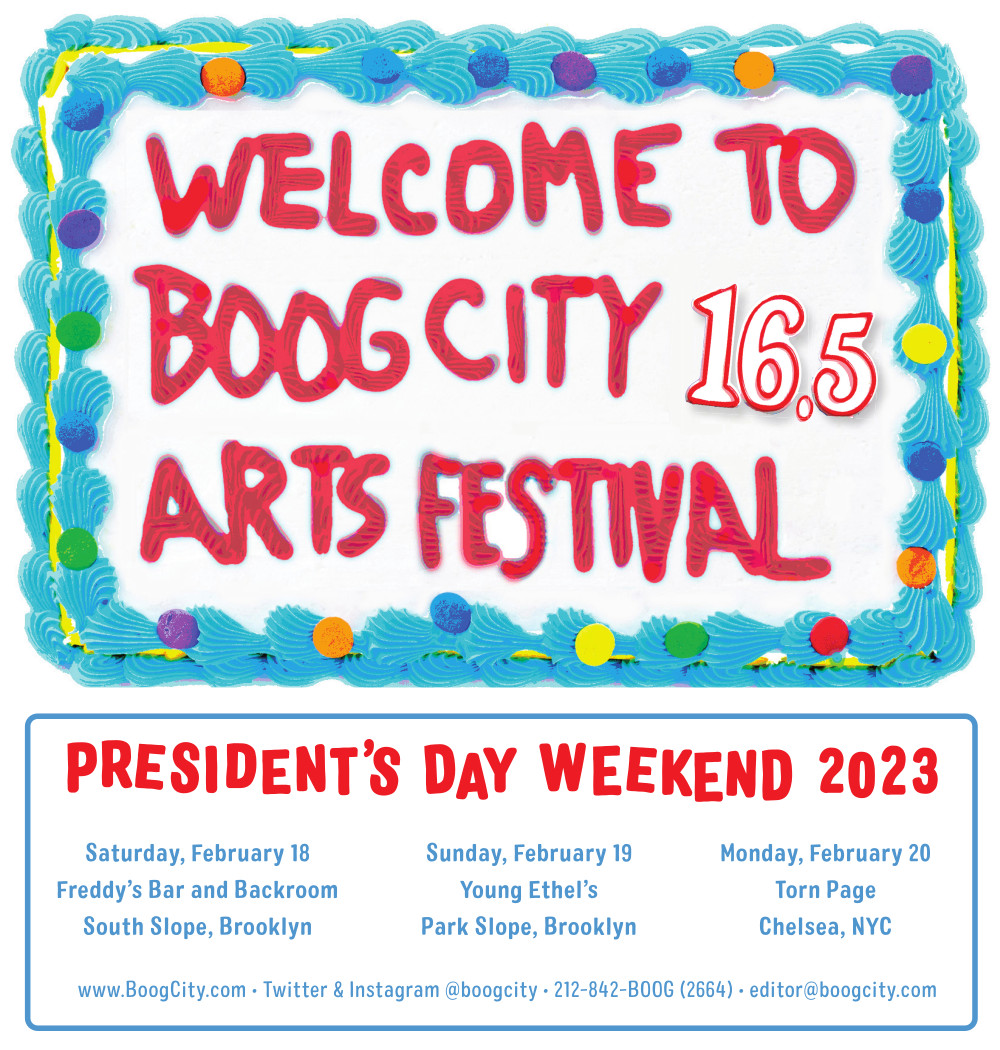 Who's Performing and How and When to Watch
Sunday February 19
Young Ethel's
506 5th Ave.
Park Slope, Brooklyn
Directions: F, G, R to 4th Ave./9th St.
Venue is between 12th and 13th sts.
$8 suggested
https://www.paypal.com/us/home to editor@boogcity.com or 
https://www.venmo.com to David Kirschenbaum.
Thank you for your continued support
The event will also be streamed via Facebook Live
https://www.facebook.com/groups/115605743040
And it will be available online in full the next day at
https://www.youtube.com/channel/UCGD_RIKdy7P9fdpIugMgoLg/featured
Doors at 1:30 p.m.
  1:45 p.m. Chris Campanioni (essayist)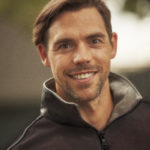 Chris Campanioni's recent work appears in BOMB, Social Text, Denver Quarterly, and American Poetry Review, and has been translated into Spanish and Portuguese and collected in Best American Essays 2022. His research converging media studies with studies of migration has been awarded a Mellon Foundation fellowship and his writing has received the International Latino Book Award, the Pushcart Prize, and the Academy of American Poets College Prize. His new book is a second printing of A and B and Also Nothing (Otis Books | Seismicity Editions / Unbound Editions). His next book is Windows 85, forthcoming from Northwestern University Press in the spring of 2024. Guy Aroch photo.
  1:55 p.m. Jason Dubow
https://learnmeproject.com/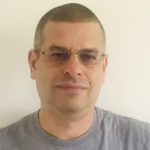 Jason Dubow teaches writing, literature, and digital humanities at St. Francis College. He lives with his wife, a dog, two cats, and (sometimes) two young-adult sons in Brooklyn. The piece he is reading today is a chapter from "LearnMeProject," a book-in-progress that began as blog reflections https://learnmeproject.com/ on "one family's homeschool experiment and beyond." Karen Cuchel photo.
  2:05 p.m. Theo Gangi (essayist)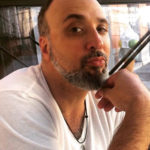 Theo Gangi is a novelist and writing teacher based in Brooklyn. He's written several acclaimed novels and short stories, and he's worked on shows for Netflix and Disney Plus. He writes far-out adventures that happen right next door. He directs the M.F.A. program in creative writing at St. Francis College and lives with his wife, young son, and their dog. Kamilah Black Gangi photo.
  2:15 p.m. Keyshawn Griffith (essayist)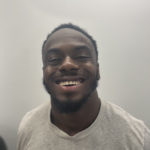 Keyshawn Griffith is finishing his M.F.A. at St. Francis College, with a concentration in novel writing. His passion for writing drives him to not only publish novels with black protagonists, but to also become a college professor that furthers students' ability to write well and experience African-American Literature.
  2:25 p.m. The Feral Cats (music)
http://www.BlindingTwinkle.com
Songwriter Fala La (formerly MoxieStarpark, The Pollynoses) performs fresh new material infinitely enhanced by the hauntingly beautiful harmonies of her wife, Cat. Come hear "Fathom," a loathsome tale of mermaids rising up violently against pro-life policies. They'll also play "Empty Thorax," "Shopping List," "God's God," "Uninvited" and a few more for a 25-minute rollercoaster ride through angst, sorrow, grief, joy, and absurdity.  Music, not talk, will cram the short set so please visit the above url to learn more.
 2:50 p.m. Patricia Grisafi (essayist)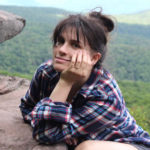 Patricia Grisafi, Ph.D., is a freelance writer, cultural critic, and educator who focuses on gender, trauma narratives and horror film. She is the author of Breaking Down Plath (Jossey-Bass), an introduction to Sylvia Plath for middle and high school students. Her work has been featured in NBCThink, Salon, The Guardian, Los Angeles Review of  Books, Vice, The Mary Sue, Catapult, and elsewhere. She lives in New York City with her husband and two children. Scott Goldstein photo.
  3:00 p.m. Mitch Levenberg (essayist)
http://www.assisijournal.org/fall-2021-issue/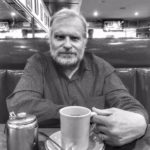 Mitch Levenberg has published essays, reviews, and short fiction in such journals as Fiction, The New Delta Review, The Saint Ann's Review, Local Knowledge, The Assisi Journal of Arts and Letters, The Same, and Others. His collection of stories, Principles of Uncertainty and Other Constants, was published in March 2006. He teaches writing and literature at St. Francis College in Brooklyn Heights, N.Y. Alex Kustanovich photo.
  3:10 p.m. Ian Maloney (essayist)
https://vol1brooklyn.com/2020/11/15/sunday-stories-models/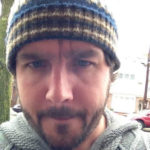 Ian S. Maloney is professor of literature, writing, and publishing at St. Francis College in Brooklyn and director of the Jack Hazard Fellowships at New Literary Project in Berkeley, Calif. He is a member of the Brooklyn Book Festival Literary Council, a board member for the Whitman Initiative, and a contributor at Vol. 1 Brooklyn. 
  3:20 p.m. Amie Souza Reilly (essayist)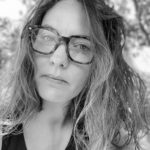 Amie Souza Reilly holds an M.A. in English Literature from Fordham University and an M.F.A. in creative nonfiction from Fairfield University. Her work has appeared on Wigleaf's Top 50 Very Short Fictions and has been nominated for Best of the Net. She is the former Feminist Fridays columnist at The Adroit Journal and has more recently appeared in The Chestnut Review, Atticus Review, HAD, Catapult, SmokeLong Quarterly, Barren, Pidgeonholes, and elsewhere. She is a creative writing and composition lecturer and the writer-in-residence at Sacred Heart University in Connecticut. M. Jack Reilly photo.
  ___________________________________
  3:30 p.m. d.a. levy lives: 
                 celebrating renegade presses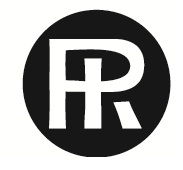 Pine Hills Review
                 (Albany, N.Y.)
Named after the Pine Hills neighborhood in Albany, Pine Hills Review is an online literary journal that publishes artful, honest, and compelling work by new and established writers. Founded in 2014, Pine Hills Review began a second iteration in 2019 as an independent online journal edited and published by Daniel Nester. Since its beginning, Pine Hills Review remains committed to creating an inclusive space for writers from all backgrounds.
Jenna Cardinale (poet)
https://www.instagram.com/cardsharkinale/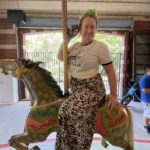 Jenna Cardinale is the author of two chapbooks. Her poetry has appeared in Pine Hills Review, Unpleasant Event Schedule, McSweeney's Internet Tendency, and La Petite Zine, among other publications, and has been anthologized in The Incredible Sestina Anthology. She lives in the county of Kings.
Rone Shavers (poet)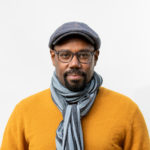 Rone Shavers is author of the experimental Afrofuturist novel Silverfish (Clash Books), which was a finalist for the CLMP Firecracker Award in fiction and one of The Brooklyn Rail's "Best Books of 2020." His work has appeared in numerous journals, including Big Other, BOMB, Black Warrior Review, and PANK. He teaches courses in fiction and contemporary literature at The College of Saint Rose in Albany, NY. Krista Caballero photo.
Sarah Sarai (poet)
http://my3000lovingarms.blogspot.com/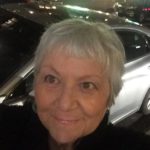 Sarah Sarai writes about her, their, your, our life/ves. She is a native New Yorker, raised in L.A. Her writing is in many journals, Pine Hills Review not least among them. For a little more info and links to her books, go to My 3,000 Loving Arms.

Daniel Nester (poet)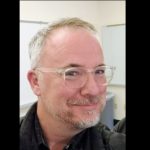 Daniel Nester is the author most recently of Harsh Realm: My 1990s (Indolent Books). His writing has appeared in The New York Times, Buzzfeed, The Atlantic, American Poetry Review, Best American Poetry, Bennington Review, Hopkins Review, Word For/Word, Court Green, and other places. He is the editor of Pine Hills Review.
  4:00 p.m. Architrave (music), first set
https://architrave.bandcamp.com/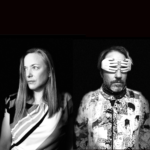 Architrave is husband-and-wife duo Jennifer Maher Coleman and Paul Coleman. Informed by '80s New Wave, electronic dance music, and science fiction, Architrave melds post-punk guitar and basslines, lush synths, and Jennifer Maher Coleman's sonorous vocals to create a landscape for themes of isolation, love, and dystopian unease. Bryan Lasky photo.
  4:15 p.m. Guillermo Filice Castro (poet)
https://www.instagram.com/guillermo_f_castro/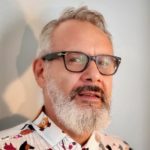 Born and raised in Buenos Aires, Guillermo Filice Castro is a queer poet and sometimes photographer. He's the author of the chapbooks Mixtape for a War and Agua, Fuego. His work appears in Pine Hills Review, Allium, Barrow Street, Brooklyn Rail, Court Green, Tishman Review, and many more. One of his poems has been nominated for a Pushcart Prize this year. Castro lives in New Jersey with his husband and two cats. Mark Papellero photo.
Jeffery Berg (poet)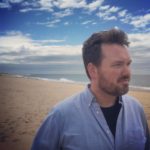 Jeffery Berg is a writer who lives in Jersey City. He received an M.F.A. from NYU. His poetry has appeared in various journals, and his film criticism can be found at Film-Forward and his blog, jdbrecords.
Carley Moore (poet)
https://carleymoore.substack.com/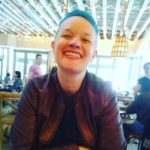 Carley Moore is the author of Panpocalypse, The Not Wives, 16 Pills, and The Stalker Chronicles. She's a clinical professor of writing and creative poroduction at New York University and lives in Brooklyn. Follow her on Instagram @fragmentedsky or find her blogging on Substack. Effie Hallford photo.
  4:45 p.m. Architrave (music), second set
___________________________________
  5:00 p.m. David Pemberton (poet)
https://theacidicghost.wordpress.com/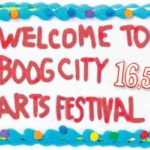 David Pemberton is an academic art librarian. He ran The Acidic Ghost Spectral Reading series from 2012 to 2018. His latest publications include Bowery Gothic (Summer 2022), A Gathering of the Tribes n. 15, and the Unbearables anthology From Somewhere to Nowhere: The End of the American Dream. He is a husband, father of two, and cat companion in Maplewood, N.J.
  5:10 p.m. Edmund Berrigan (poet)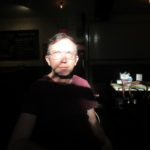 http://ifeeltractor.blogspot.com
Edmund Berrigan is a poet, editor, and musician living in Flatbush, Brooklyn. He is the author of More Gone (City Lights), and performs music as I Feel Tractor and with the Other Arc Ensemble.
  5:20 p.m. Cori Hutchinson (poet)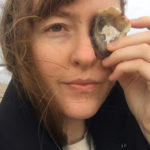 Cori Hutchinson is a library assistant and poet living in Brooklyn. Her can be read in FORGE Rolling Paper and Wax Nine.  
  5:30 p.m. Bill Evans (poet)
https://www.youtube.com/watch?v=L_6oBQ20Pss&list=PLT0wRLGNuASPiGoBGT4QX4l_Bd5N0EveL&index=2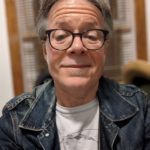 Bill Evans' book of poems, Modern Adventures, is published by Spuyten Duyvil. He teaches high school in New York City.
  5:40 p.m. Michele Somerville (poet)
https://www.michelesomerville.com/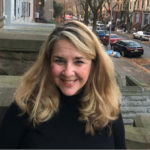 Michele Madigan Somerville is the author of three books of verse, Glamorous Life (Rain Mountain) Black Irish (Plain View Press), and WISEGAL (Ten Pell). She has an M.F.A. in poetry from Brooklyn College and a master's of theology from Harvard. A lifelong teacher, she has worked extensively as a teacher of students ages 5 through 84 in New York. Her poems have appeared in The Nervous Breakdown, Brooklyn Review, Hanging Loose, Puerto Del Sol et al. She also writes essays and fiction. Somerville was born in New York City where she currently resides. Sophie Rose Anger photo.
  5:50 p.m. Alan Felsenthal (poet)
https://shop.uglyducklingpresse.org/products/552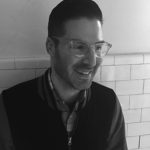 Alan Felsenthal is the author of Lowly (Ugly Duckling Presse). His writing has appeared in BOMB, The Brooklyn Rail, Critical Quarterly, jubilat, Harper's, and The New York Times Magazine. He runs a small press called The Song Cave with Ben Estes. They co-edited A Dark Dreambox of Another Kind: The Poems of Alfred Starr Hamilton (The Song Cave).
  6:00 p.m. Matt Proctor (poet)
https://youtube.com/@scenes_from_a_life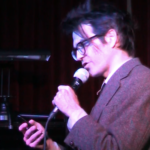 Matt Proctor is the host of the easy paradise open mic every monday at kgb red room. His poetry vlog 'scenes from a life' is available on youtube.
  6:10 p.m. John Mulrooney (poet) 
https://canwehaveourballback.org/f/john-mulrooney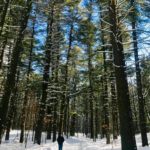 John Mulrooney is a poet, filmmaker, and musician living in Cambridge, Mass. He is the author of If You See Something, Say Something from the Anchorite Press and co-producer of the documentary The Peacemaker, from Central Square Films. He serves as poetry editor for Boog City. He records and performs regularly with a number of musical groups in the greater Boston area. He is professor of English at Bridgewater State University. His work has appeared in Fulcrum, Pressed Wafer fold'em zine, Solstice, the Battersea Review, Poetry Northeast, Spoke, Let the Bucket Down, and others. Rachel Layne photo.
  6:25 p.m. I feel tractor (music)
See 5:10 p.m., Edmund Berrigan
  6:50 p.m. Joanna Acevedo (poet)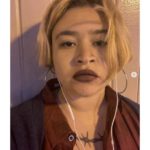 Joanna Acevedo (she/they) is the Pushcart nominated author of the chapbook List of Demands (Bottlecap Press) and books The Pathophysiology of Longing (Black Centipede Press) and Unsaid Things (Flexible Press). Her work has been seen across the web and in print, including or forthcoming in Hobart Pulp, Litro, and The Rumpus. She is a guest editor at Frontier Poetry, associate poetry editor at West Trade Review, and runs interviews for Fauxmoir and The Great Lakes Review. She received her M.F.A. in fiction from New York University and is supported by Creatives Rebuild New York: Guaranteed Income For Artists. 
  7:00 p.m. Joel Lewis (poet)
https://brooklynrail.org/2015/09/poetry/joel-lewis-sept-2015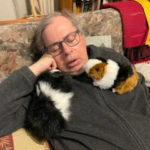 Joel Lewis works as social worker by day and a psychogeographer in his off hours, focusing mostly on the outer reaches of the N.Y. archipelago and the immediate West Bank of the Hudson. Recent output: My Shao Lin: A Poem of Staten Island and the equally on the nose North River Rundown. His current manuscript is a collection of poems mostly about jazz titled Unpopular Music
  7:10 p.m. Rachel Allen (poet)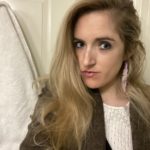 Rachel Allen is a writer and editor in New York. Her work has been anthologized by Best American Experimental Writing and Archways Editions; she previously edited Asymptote and Guernica. She currently assists production at The Poetry Project and hosts Hypothetical Books. 
  7:20 p.m. Christina Olivares (poet)
http://www.christinaolivares.com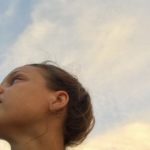 Christina Olivares is the author of the books of poetry Future Botanic (Get Fresh Books; No Map of the Earth Includes Stars, winner of the 2014 Marsh Hawk Press Book Prize; and the chaplet Interrupt (Belladonna* Collaborative). Olivares is a poet, essayist, and videographer who works as an educator. She is a poverty and prison abolitionist and identifies as queer and American-Cuban.
  7:30 p.m. Bakar Wilson (poet)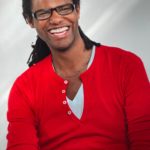 Bakar Wilson's poetry has appeared in The Vanderbilt Review, The Lumberyard Radio Magazine, The Brooklyn Rail, Flicker and Spark: A Contemporary Queer Anthology, and The Ostrich Review, among others. He has performed his work at the Bowery Poetry Club, Poetry Project, The Studio Museum of Harlem, and the 2022 Whitney Biennial. A native of Memphis, Tenn.,Wilson received his B.A. in English from Vanderbilt University and his M.A. in creative writing from the City College of New York. He is an adjunct lecturer of English and creative writing at Borough of Manhattan Community College at CUNY.
  7:40 p.m. Joanna Sit (poet)
https://mec-cuny.digication.com/joanna_sit/Work_Samples/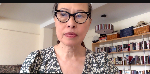 Joanna Sit was born in China and grew up in New York City, where she lives with her husband and daughter. She teaches creative writing at Medgar Evers College, City University of New York. She is the author of My Last Century; In Thailand with the Apostles; and, most recently, Track Works. Her poem "Timescape: The Age of Oz" was nominated for the Pushcart Prize in 2016. She is working on an ethnographic narrative called The Reincarnation of Red and another book of poems called Fantastic Voyage. 
  7:50 p.m. Robert Gibbons (poet)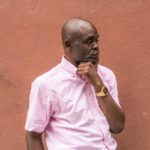 Robert Anthony Gibbons  has been published in hundreds of literary magazines and in several notable anthologies. Recent publication credits includes Killens Review, Tribes, Involuntary Magazine, Peregrine, Expound, Promethean, Turtle Island Quarterly, Killer Whale, and Suisun Valley Review, as well as Voices of Lefferts and the Bronx Memoir Project: Vol. 2 published by the Bronx Council of the Arts. Gibbons' first collection, Close to the Tree was published by Three Rooms Press, and his chapbook, Flight, was published by Poets Wear Prada. Some of his videos can be found on IG: @anthonyrobertgibbons.
  8:00 p.m. Uche Nduka (poet)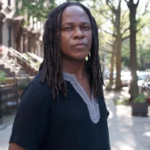 Uche Nduka is the author of 13 volumes of poems of which the most recent are Facing You (City Lights) and Scissorwork (Roof Books). His writing has been translated into Italian, Romanian, German, Arabic, Finnish, Turkish, Serbo-Croat, and Dutch. He presently lives in New York City and teaches at Queens College and The New School-Eugene Lang.
  8:10 p.m. Rusty Doves (music)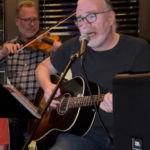 Rusty Doves is sorry he couldn't be here tonight but the legacy of purple fountains moved him first to tears and then distraction. Rusty Doves has never forgotten her first rodeo clown, rough hands, and delicate temperament that always kept a fine tuned sapphire just out of reach. Rusty Doves wonders where all the money went. Rusty Doves stares through the holes in their pockets straight through to where your finger nervously traces the lacquered surface of the planchette.