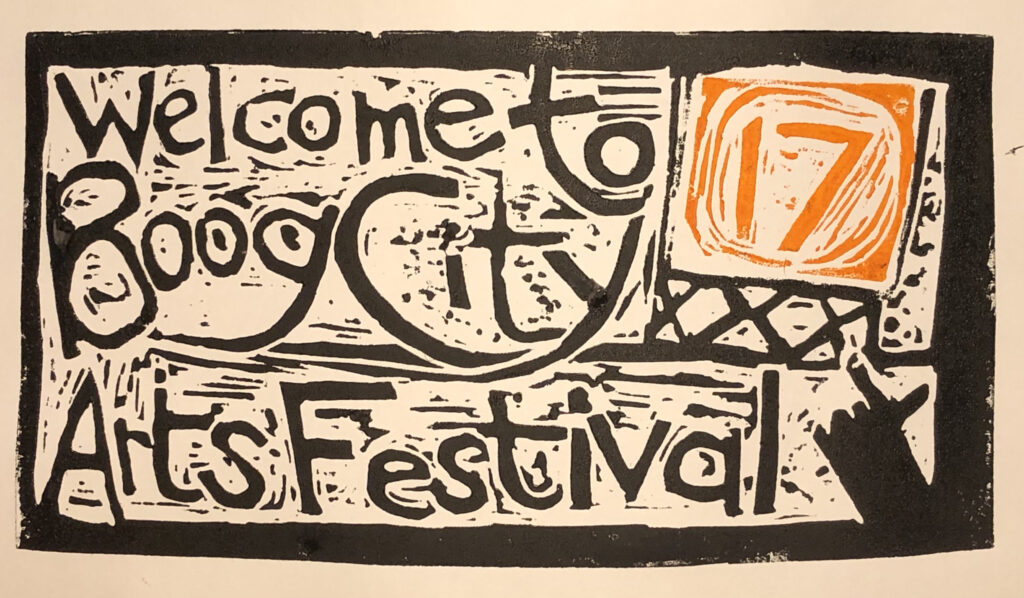 Who's Performing and How and When to Watch
FRI. SEPT. 8
Unnameable Books
615 Vanderbilt Ave.
Brooklyn
Directions: 2, 3 to Grand Army Plaza,
C to Clinton-Washington avenues, Q to 7th Ave.
Venue is between St. Marks Avenue and Bergen Street
$8 suggested
https://venmo.com/u/David-Kirschenbaum-1
Thank you for your continued support
The event will also be streamed via Facebook Live
https://www.facebook.com/groups/115605743040
And it will be available online in full the next day at
https://www.youtube.com/channel/UCGD_RIKdy7P9fdpIugMgoLg/featured
6:00 p.m. Avra Wing (poet)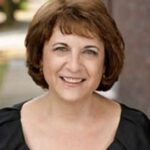 Avra Wing's poetry appeared most recently in Constellations, The American Journal of Poetry, The Hollins Critic, and Cimarron Review, and is upcoming in I-70 Review. Her collection, Recurring Dream, won the 2011 Pecan Grove Press Chapbook Competition. She is the author of two novels, Angie, I Says, a New York Times "notable book" made into the movie Angie, and After Isaac for young adults. Formerly an adjunct professor of English at Kingsborough Community College, she leads a N.Y. Writers Coalition workshop at the Center for Independence of the Disabled, New York. Poppy Studio, Eve Prime photo.
6:10 p.m. Ron Horning (poet)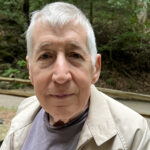 Ron Horning's poems have appeared in The New Yorker, Vanitas, and Sal Mimeo. His books include From Philip Drunk to Philip Sober and Jitterburg. He lives in Beacon, N.Y.
6:20 p.m. Angela Carr (poet)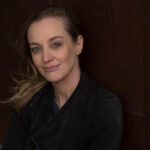 Angela Carr is the author of four books of poetry, most recently Without Ceremony (Book*hug). She is also a translator and teaches poetry and literature at The New School.
6:30 p.m. John Godfrey (poet)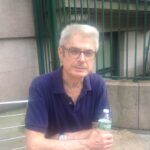 John Godfrey's recent collections are The City Keeps: Selected and New Poems 1966-2014 (Wave Books) and A Torch for Orphans (Cuneiform Press). Harris Schiff photo.
6:40 p.m. JP Howard (poet)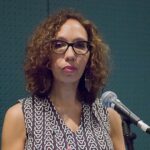 JP Howard is a poet, educator, literary activist, and curator. Howard was the Spring 2023 Brooklyn College Tow Mentor-in-Residence. Her debut poetry collection, SAY/MIRROR, was a Lambda Literary finalist. She is also the author of bury your love poems here, Praise This Complicated Herstory: Legacy, Healing & Revolutionary Poems, and co-edited Sinister Wisdom Journal Black Lesbians—We Are the Revolution! Howard has received fellowships from Cave Canem, VONA, and Lambda Literary Foundation. Her poetry is widely anthologized. She curates Women Writers in Bloom Poetry Salon and is a general poetry editor for Women's Studies Quarterly.
6:50 p.m. Fatima Velez (poet)
Fátima Vélez is a writer, professor, Ph.D. candidate, and cultural producer from Manizales (Colombia). She holds an M.F.A. in creative writing in Spanish from NYU. She has published the collection of poems Casa Paterna, Del Porno y las babosas, Diseño de Interiores, and the novel Galápagos. She lives in Sunnyside, Queens.
7:00 p.m. Harris Schiff (poet)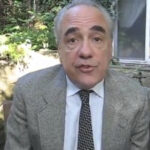 Itinerant poet 1963 1975. Inhabitant of East Village during the peak creative period late '60s to 1982, and a significant participant in the early Poetry Project at St. Marks during that period. Participant [6th] Centralamerican Poetry Festival 2010
7:10 p.m. Jane Byaela (music)
Jane Byaela is a songwriter, singer and accomplished guitarist, writing and performing since childhood. Having come from a family of classical musicians, she is mainly self taught. Byaela has produced two CD's, On The Edge and Burning Silver. She has toured extensively in Europe and the U.S. On The Edge was released on Line Music in Europe. Her songs can be heard on Soundcloud and Youtube. CD's are available online and at live performances.
7:40 p.m. Filip Marinovich (poet)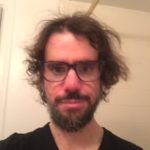 Filip Marinovich, AKA Wolfman Librarian, is the author of The Suitcase Tree, Wolfman Librarian, And If You Don't Go Crazy I'll Meet You Here Tomorrow, and Zero Readership. He teaches the poetry seminar "Shakespearian Motley College" at Torn Page Theater in New York City.
7:50 p.m. Andrei Codrescu (poet)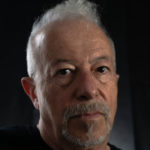 Andrei Codrescu was born in Sibiu, Transylvania, Romania, and emigrated to the United States in 1966. He is the author of numerous books: poems, novels, and essays. He founded Exquisite Corpse: a Journal of Books and Ideas. He was a regular commentator on NPR's All Things Considered. He taught literature and poetry at Johns Hopkins University, the University of Baltimore, and Louisiana State University. Noah Krueger photo.
8:00 p.m. Rebecca Reynolds (poet)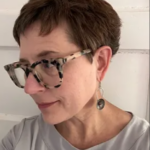 Rebecca Reynolds has published two books of poetry, Daughter of the Hangnail and The Bovine Two-Step (New Issues Press). Her first book received the 1998 Norma Farber First Book Award from the Poetry Society of America. Her poems have appeared in several journals, print and online, including Quarterly West, Boston Review of Books, Cimarron Review, Web Conjunctions, American Letters and Commentary, The Literary Review, The Spoon River Poetry Review, Notre Dame Review, Verse, Third Coast, Open City, and Journal of New Jersey Poets. She received a Hopwood Poetry Award from the University of Michigan and a New Jersey State Council on the Arts grant. Over the last 30 years, she has served as an assistant dean of academic advising and a part-time lecturer in women's, gender, and sexuality studies and creative writing.
In 2021, she left her full-time position to work as a part-time lecturer in creative writing at Rutgers University and devote more time to writing and publishing. She lives with her wife and cats on the northwestern edge of New Jersey, close to the Delaware River, the Delaware Water Gap, and the old towns, farmland, valleys, rocky cliffs, and mountains of northern New Jersey and eastern Pennsylvania.
8:15 p.m. Rebecca Weiner Tompkins (poet)
sensitiveskinmagazine.com/author/rebecca-weiner-tompkins/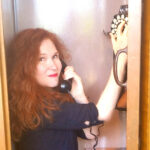 Rebecca Weiner Tompkins' King of the Fireflies was published by Sensitive Skin Books. Poems have appeared in Ploughshares, Pequod, POETRY, Seneca Review, Sensitive Skin, and The Antioch Review.
She received awards from the NEH and the Academy of American Poets, taught English/Writing for 37 years at Borough of Manhattan Community College, CUNY, and teaches literature/theology seminars. In 2010 she gave a TEDx talk "Sensing Convergences."
She's played violin with Patti Smith, Scott McClatchy, The Sometime Boys, Emily Duff, Life in a Blender, Conrad y Skordalia, Maynard & The Musties, Sergio Webb, Mark Huff, Luke Powers, Afton Wolfe, among others. She lives in Nashville and Brooklyn.
8:25 p.m. Gerald Wagoner (poet)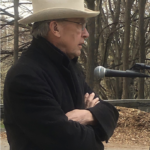 Gerald Wagoner, author of A Month of Someday (Indolent Books) and When Nothing Wild Remains (forthcoming, Broadstone Books), says his childhood was divided between Eastern Oregon and Montana, where he was raised under the doctrine of benign neglect. His work has appeared in Beltway Quarterly, BigCityLit, Blue Mountain Review, Cathexis Northwest Press, Night Heron Barks, Ocotillo Review, Right Hand Pointing, and Maryland Literary Review. He had a Visiting Poet Residency at the Brooklyn Navy Yard in 2018. In 2019 and 2021-23 he served as curator/host of A Persistence of Cormorants, an outdoor reading series by the Gowanus Canal. He lives in Brooklyn.
8:35 p.m. Peter Dizozza (music)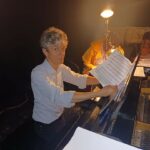 Peter Dizozza is a composer who also produces supplemental material as a writer, pianist, performer, photographer, and filmmaker. Cinema VII administers his catalog. He is music director for Theater for the New City's 2023 Street Theater, touring the city with its final performance 2:00 p.m. Sun., Sept. 17, in Tompkins Square Park. A genre musical play called Twisted, for which he wrote the score, opens September 28. He is a member of The Lambs and The Dramatist Guild.
He is developing a musical play called Mushroom Head at The Lambs Playwright Workshop. For this show he will present songs from that and from his upcoming album, Ghosts of Reality.