Click to Visit More from Thomas Peters
—Memoir
 
'Some Unknown Morrison Clone': A Fan's Notes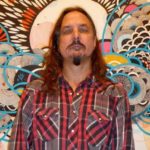 TOM PETERS was born in Detroit, attended Texas Christian and Central Michigan universities, graduated Naropa Institute. He also has made films, acted in films, television, and music videos. He runs the Beat Book Shop in Boulder, Colo. and curates and hosts the longest-running weekly open poetry reading in the world, every Monday since 1987. Films of him reading at The Denver Art Museum with Allen Ginsberg are broadcast on PBS. Peters has performed with members of The Laughing Hyenas, Mule, Negative Approach, L7, Sonic Youth, DeVotchka, A Tribe Called Quest, and Architects Office, among others. He has read with Allen Ginsberg, Peter Orlovsky, Jack Micheline, and hundreds of other poets. 
Peters has shared a stage and opened for The Flaming Lips, Nick Cave and the Bad Seeds, The Beastie Boys, The Smashing Pumpkins and the bands mentioned above. His performance at Lollapalooza was said to be "the first time a poet of his generation engaged a crowd of that size (30,000 people) in a positive manner." The poet Robert Creeley said of Peters as a poet that he is "the real thing." 

Art copyright ©Thomas Peters 2014-2021. Art photos by Ted Thacker. Tom Peters photo by Dennis Kernohan.